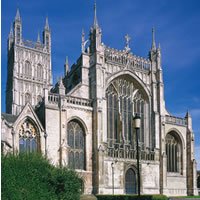 Gloucester Diocese Mothers' Union
Mothers' Union News
We would, as ever, be happy to receive any pictures or stories from around the diocese - these can be emailed to the Mothers' Union Office mailto:info@mugloucester.org.uk
May information
Some new documents are now available to download from the Links page. These include the details for the Mary Sumner Day picnic on 9th August at Saul, this year's Wave of Prayer days in September, and the November retreat at Cropthorn.
Past Presidents 140th Anniversary challenge
Pat Harris, who was President from 1989-94, and other past presidents are stitching a Mothers' Union Chapel kneeler to raise funds in this special year. All details can be found on https://www.justgiving.com/pastpresidentschallenge .
2017 theme
The theme for this year is "Faith in Action"
Subs for 2017
Subs for 2017 have been agreed by the Trustees based on information from Mary Sumner House.
Branch member : £ 22.00
Indoor member : £ 15.00
Diocesan member : £ 27.00
Please remember that if you pay tax you can Gift Aid your subscription, please ask your Branch Treasurer or ring the MU Office on 01452 528621.
We are a subscription based mission society because we have a structure to maintain which sustains the projects we run. Without subscriptions, so much of which we are proud to own would not exist.
Each subscriber member helps to support Mothers' Union; each member is valued for their prayers, their practical and financial support.
Lady Day Service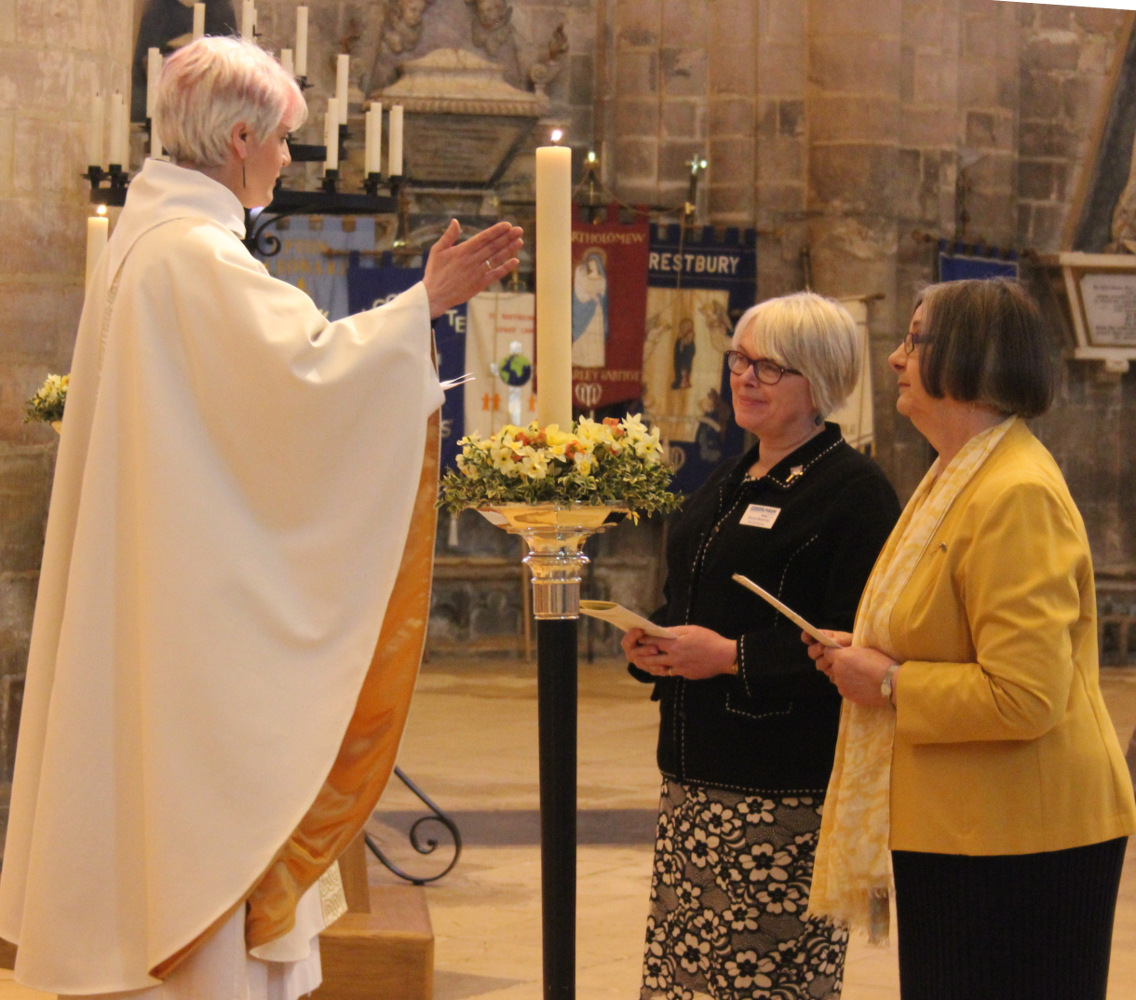 The Lady Day Service in Gloucester Cathedral on 4th April 2016, presided over by Revd Ruth Fitter, included the commisioning of our joint Diocesan Presidents Helen Barton and Dorothy Marshall, along with the Trustees, Unit Coordinators and Speakers. ../downloads/GloucesterMULadyDayService040416.pdf
New Logos
Mary Sumner House issued logos for use during 2016, the 140th Anniversary of MU. See links page for downloads.
Refugee crisis in Europe
The Central Mothers' Union website has been updated, including a new prayer which comes from St Pauls Cathedral.
The Church of England has produced a helpful briefing note suggesting possible responses for Christians -- https://www.churchofengland.org/media/2298415/150922%20web%20guidance%20supporting%20refugees.pdf
Please continue to hold the refugees, governments trying to find ways forward, and people assisting on the ground, in your prayers.
Mary Sumner Day Cream Teas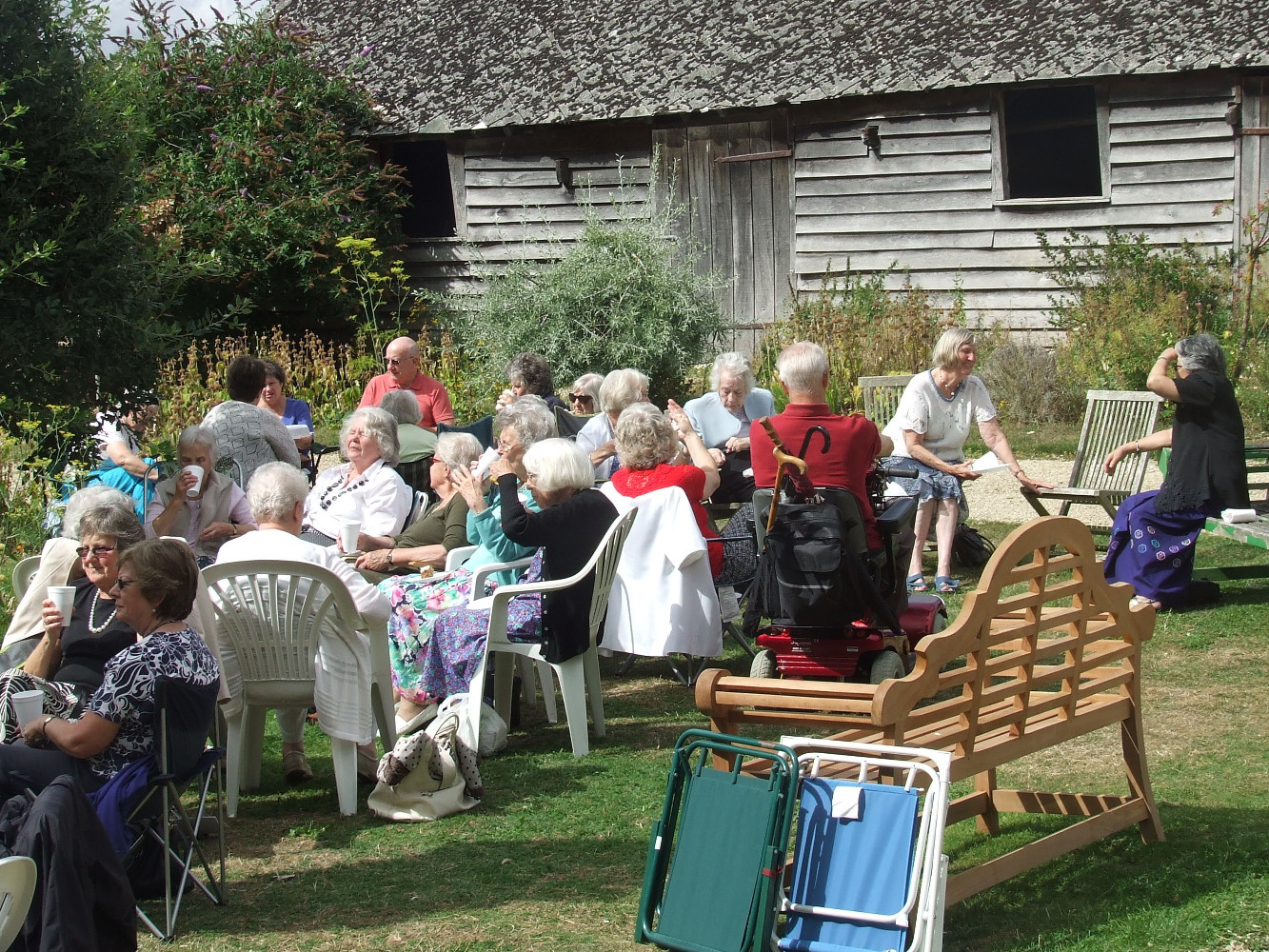 Brockworth Court was buzzing with chatter, laughter and music as we celebrated Mary Sumner day in style and sunshine on 10th August 2015.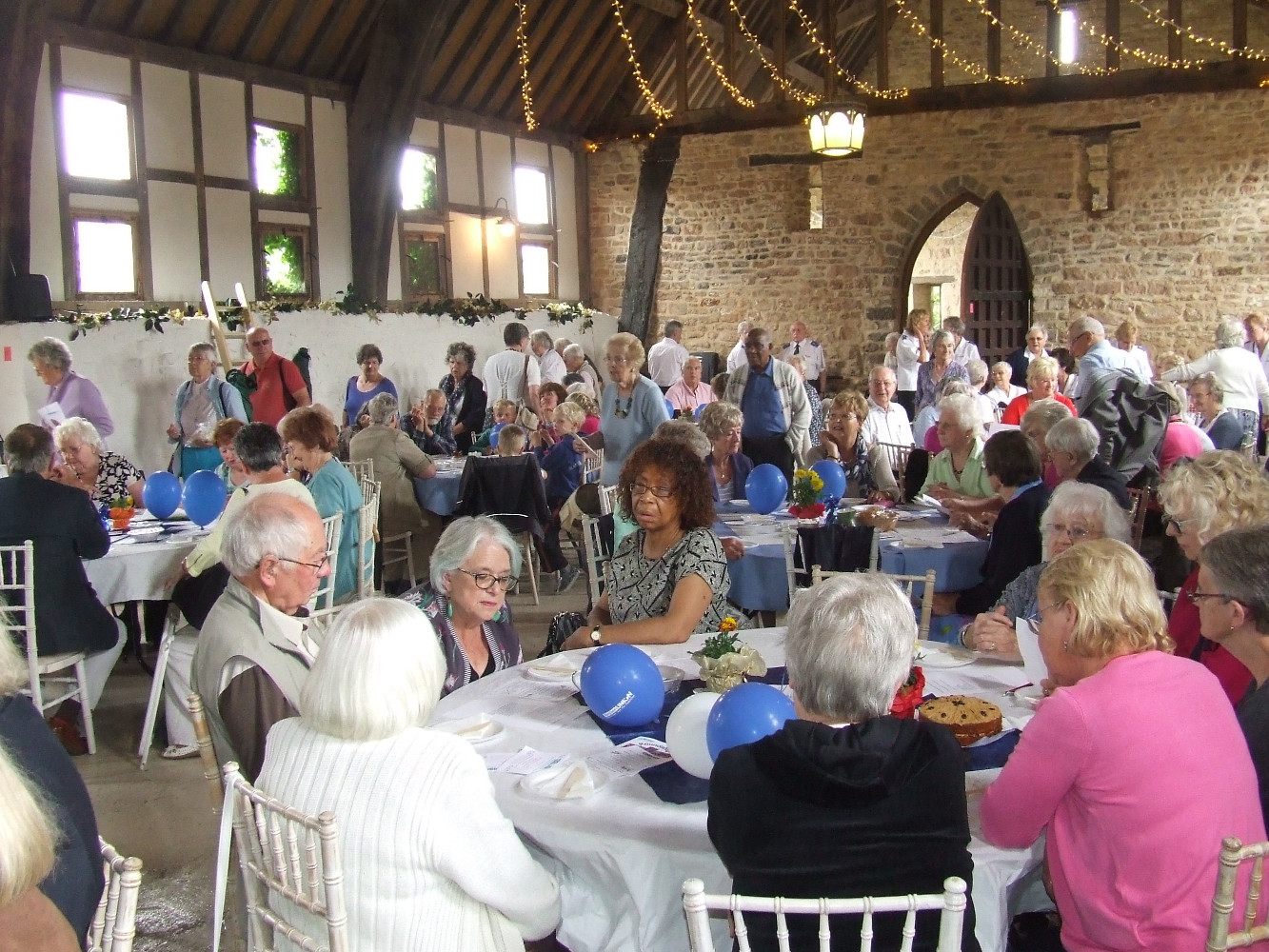 Visit of Worldwide President Lynne Tembey
We were delighted that Lynne was able to join us for the Festival Service in May 2015.It was a wonderful service and she spoke passionately about how through Mothers' Union projects and campaigns we can offer our love and comfort to those who are hurting and in pain, in this country and around the world. Trustees, members and some indoor members had the opportunity to meet and talk with her.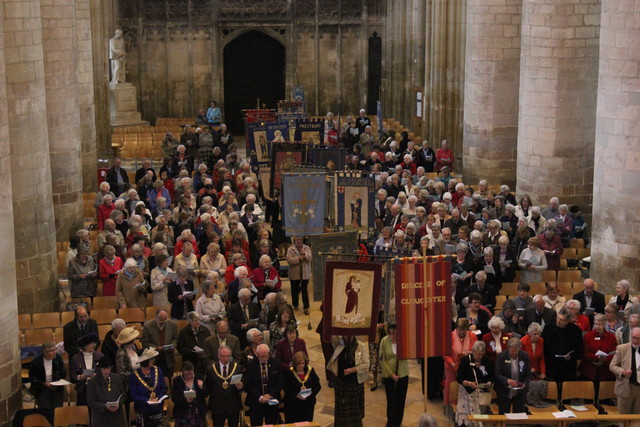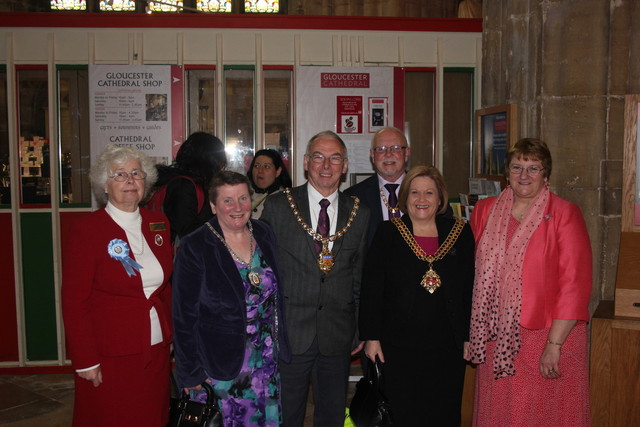 Families come First day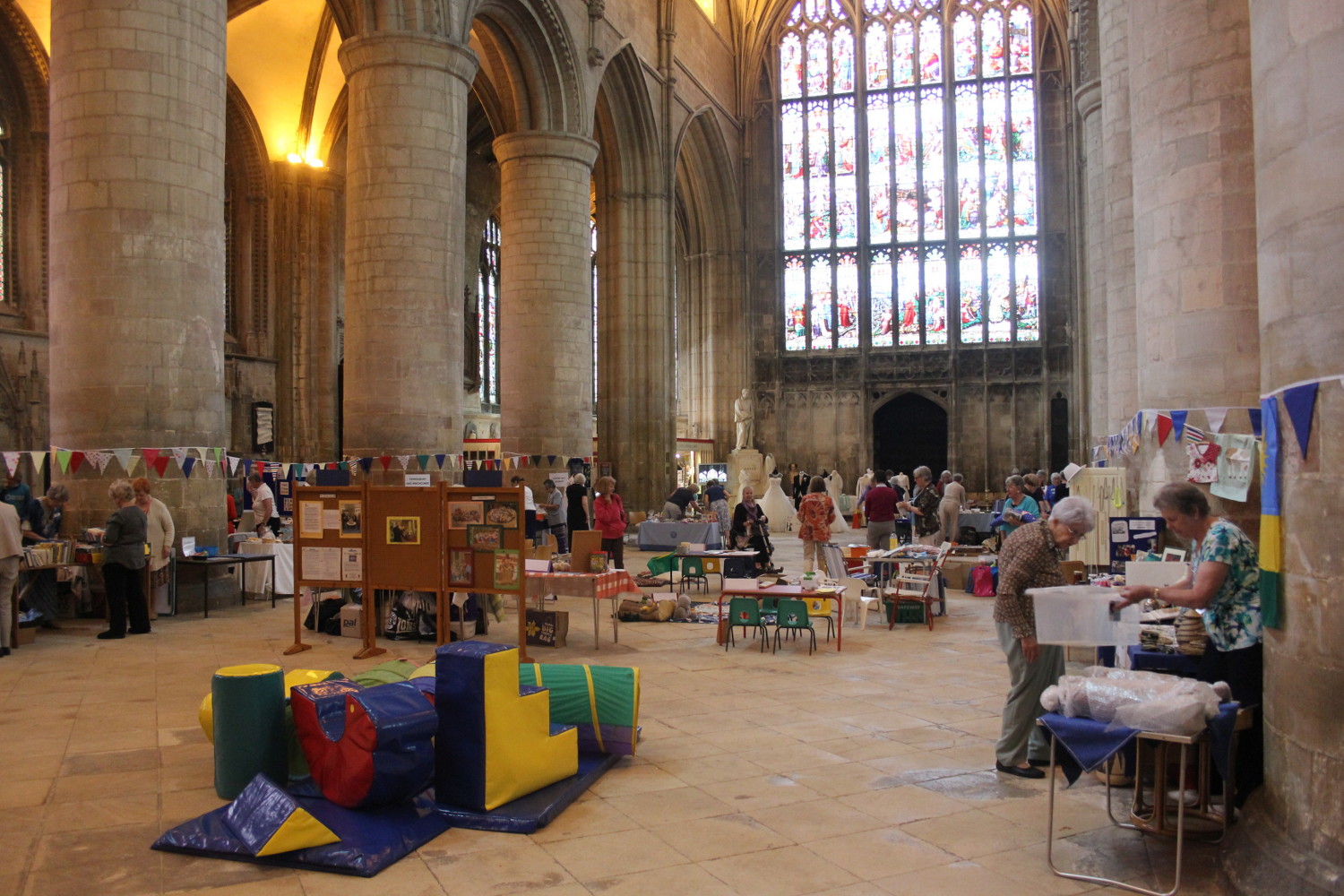 We had a busy and successful day in the Cathedral on Saturday 28th June 2014.
To see many more photographs go to Families come First photos
Posters
There are now a few posters about Mothers' Union on the Links page which can be downloaded.
Fundraising
Before general shopping online, sign up to Easyfundraising http://www.easyfundraising.org.uk/causes/mugloucester so that Gloucester MU gets a donation every time you shop.
Craft Projects
Patterns are now on the Links page for the different craft projects that we support; the Cross-in-your-pocket for use in prisons and baby blankets for SANDS. Finished items can be sent to the MU office.
Gift Aid
The latest version of the Gift Aid forms are in the Downloads section of the Links page. See also Gift Aid memo for information.
Documents
See the Links page for documents from the Office which you can download, including the Wave of Prayer timetable.