Mothers' Union is the largest international Christian organisation with over 4 million members in 83 countries across the world.
Within this worldwide organisation we are part of the Anglican Province of Canterbury and based in the South West of England above Bristol, bordered by Wales in the West and the Cotswold Hills to the East.
Led by our Diocesan President, Kay Hensley for the triennial 2019-2021 we have 39 branches across 9 deaneries and about 1,000 members working towards the Mothers' Union vision to strengthen and preserve family life and marriage, by our Christian faith through practical action.
This practical action can be seen through the giving of self, in prayer, in voluntary work, and in helping those less fortunate than ourselves in whatever ways we can.
Following the links, please take the time to discover how we respond to our Mothers' Union vision of a world where God's love is shown through loving, respectful, and flourishing relationships.
Mary Sumner House
The national Mothers' Union website is a source of information about the worldwide organisation, national projects, monthly prayers and resources for members.
http://www.mothersunion.org
Midday Prayers are live on their Facebook page at 12:00 noon daily.
https://www.facebook.com/MothersUnion
Diocesan President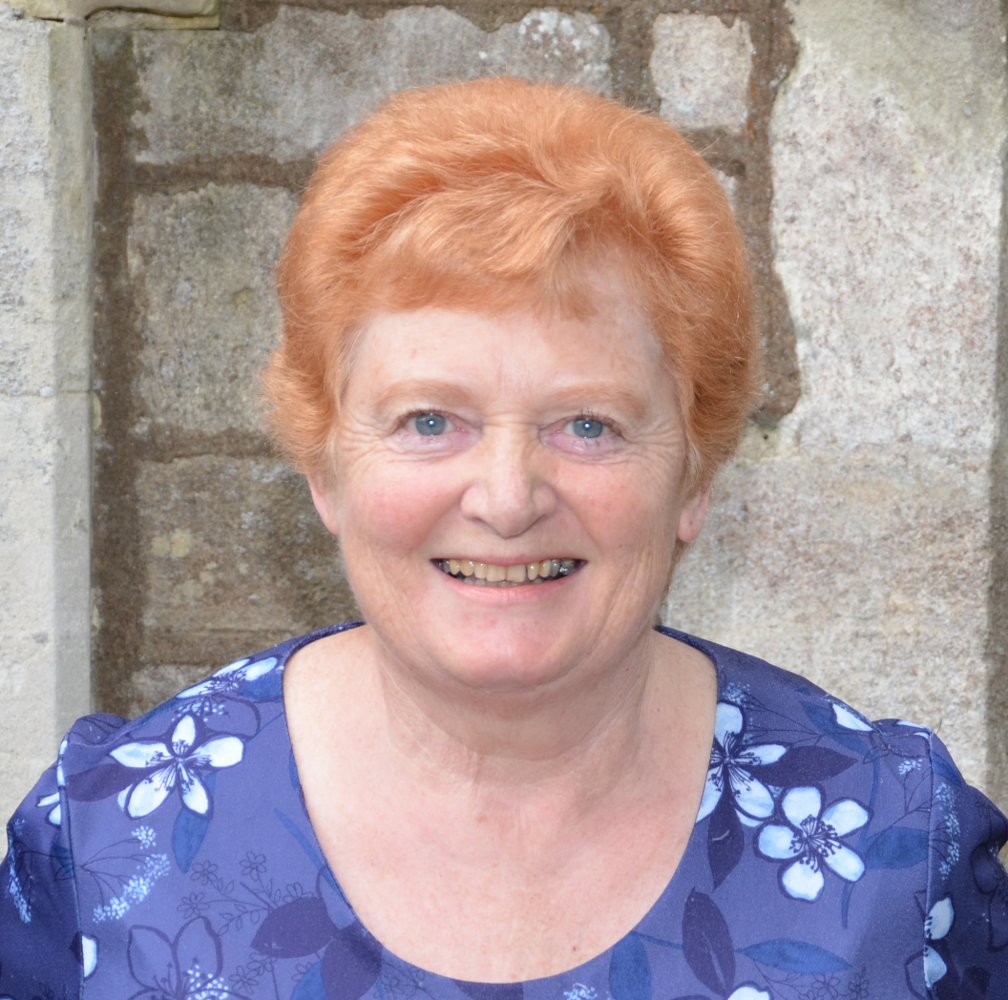 Kay Hensley is our President for this Triennial
Letter from our Diocesan President
Dear Fellow Members
Covid-19 update - JULY 2020
And so we come to my fifth letter... I don't think I was anticipating that I would still be writing updates for you by now. Let's hope September brings a more normal life for us all.
Friday 17th was the last official 'Office Day' as term ended that week.
So I will not be in the office regularly over the summer - just popping in to check for post!
News:... in no particular order..
Our MU Chaplain - I will make a presentation to Katie of a small gift in token of our appreciation of her working with us. I hope that perhaps later in the year we may be able to thank her in the traditional fashion at a meeting. Please let me know of anyone you think who could fill this post.
Rev. Rosemary Franklin has kindly offered to cover this position until it is filled.
AFIA - Three members of the Trustee board, including me, met in the office to draw the Raffle on Saturday 18th. Due to your generosity we were able to draw for 18 prizes. Congratulations to all who won something. Maggie and Kate are beginning to arrange holidays again.
Don't forget the BIG AFIA DAY - this has been postponed to 2021 and will take place in Hucclecote on July 10 th 2021.
Roundabout - You have just a 10 days to the deadline for contributions to the magazine. Don't be late!
Ordering - don't forget to be in touch with Doreen to order any cards etc. you would like. Diary and Calendar orders need to be sent in as soon as possible. Email Doreen.mclellan@yahoo.co.uk or you can order on line - see my previous letter. Doreen will be happy to continue receiving orders during August.
Eastwood Park Prison - I have been in touch with Alma and although she cannot use the card fronts at the moment she would very much like to have wool. If you have any wool please be in touch with me direct so that we can arrange collection. My address is at the bottom of this letter - my email is kayshensley@yahoo.co.uk
Wave of Prayer - September 3 rd -5 th - You probably won't be able to meet as you would like but do please observe this in the best way you can. Maybe organise a Zoom meeting with your members! We are all getting so clever now aren't we! But just asking members to pray at home is fine. The times are the same as last year. If you are uncertain please get in touch with your Deanery Leader. The suggested order of service can be found under Resources for you to print off if you have lost yours. It is possible to print some more for you if necessary but please give me plenty of notice.
Mary Sumner Day - 9 th August - I hope you are all working on a way to observe this special day. A reminder that Cirencester will be streaming a service at 10am to which you are all invited. Rev. Rosemary Franklin will preside and Pat Harris will be giving the address. A reminder that you can access this through www.cirenparish.co.uk .
Mary Sumner House Appeal - this is ongoing so if you are able, either as a branch or as an individual, to donate to this please do so.
Diocesan Secretary - we are still looking for a replacement for Carole so, again, if you know of anyone who would like a part time job please encourage them to apply.
Well it just leaves me to wish you all a very safe and happy summer and look forward to what September will bring.
With love Kay (and all your Trustees)
A prayer from the Church of England Prayers for use during the outbreak...
Lord Jesus Christ,
You taught us to love our neighbour, and to care for those in need as if we were caring for you.
In this time of anxiety, give us strength to comfort the fearful, to tend the sick, and to assure the isolated of our love, and your love, for your name's sake. Amen.