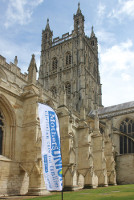 Diocese of Gloucester Mothers' Union
Mothers' Union in the Gloucester Diocese
Welcome to the Diocese of Gloucester Mothers' Union website
Mothers' Union is the largest international Christian organisation with over 4 million members in 83 countries across the world.
Within this worldwide organisation we are part of the Anglican Province of Canterbury and based in the South West of England above Bristol, bordered by Wales in the West and the Cotswold Hills to the East.
Led by our Diocesan President, Doreen McLellan for the triennial 2022-2024 we have 33 branches across 8 deaneries and about 750 members working towards the Mothers' Union vision to strengthen and preserve family life and marriage, by our Christian faith through practical action.
This practical action can be seen through the giving of self, in prayer, in voluntary work, and in helping those less fortunate than ourselves in whatever ways we can.
Following the links, please take the time to discover how we respond to our Mothers' Union vision of a world where God's love is shown through loving, respectful, and flourishing relationships.
Mary Sumner House
The national Mothers' Union website is a source of information about the worldwide organisation, national projects, monthly prayers and resources for members.
http://www.mothersunion.org
Midday Prayers are live on their Facebook page at 12:00 noon daily.
https://www.facebook.com/MothersUnion
Commisioning of Diocesan President and chaplain
Doreen was formally commissioned as our Diocesan President at the Lady day service in Gloucester cathedral , alongside the Trustees and Speakers. Revd. Liz Palin was also commisioned as our chaplain.
Letter from our new President
Dear Fellow Members
As this is my first letter as Diocesan President I would like to start by taking the opportunity to thank Kay for all she has done over the last triennium.
She has continued to keep in touch as much as possible and, like many of us, has had to master the technology of Zoom meetings. As well as coping with the different way of life caused by the pandemic Kay has also been dealing with life following the death of her husband, Richard, so we are all grateful for her continued work for Mothers' Union.
We are also very grateful to Rev'd Rosemary Franklin for stepping in as our chaplain and to Maggie Pollard for her work with AFIA.
I have met or been in contact with many members in the Diocese as I have been responsible for Mothers' Union cards and goods for the last three years but I would like to introduce myself to those who don't know me.
I was born and brought up in the Medway Towns in North Kent and trained as a librarian when I left school, running the local studies section of Gravesend library. I met my husband, Philip, when we both worked at the County Library headquarters and we have been married for almost 48 years. We have two children, both of whom are married, and one grandchild. We moved to Gloucester 30 years ago when my husband's job was relocated. Having settled here and found a church to attend regularly I began going to Mothers' Union meetings and finally became a member at the beginning of 2000.
Since then I have been Branch Leader and Deanery Leader and am looking forward to this next role in my MU life.
Thank you for the support I have received as I prepare to take on this new role alongside the other trustees. All of the trustees, post holders and I will be grateful for your prayers over the coming months.
I am writing this before the first trustee meeting of the triennium but we will soon be meeting to review the past triennium and look forward to this one. Any plans we make may, of course, be subject to change and adaptation, possibly at short notice. If nothing else, the pandemic has taught us that any plans need to be flexible.
With love and prayers
Doreen