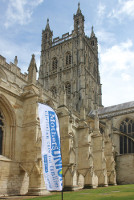 Diocese of Gloucester Mothers' Union
Mothers' Union in the Gloucester Diocese
Welcome to the Diocese of Gloucester Mothers' Union website
Mothers' Union is the largest international Christian organisation with over 4 million members in 83 countries across the world.
Within this worldwide organisation we are part of the Anglican Province of Canterbury and based in the South West of England above Bristol, bordered by Wales in the West and the Cotswold Hills to the East.
Led by our Diocesan President, Kay Hensley for the triennial 2019-2021 we have 34 branches across 8 deaneries and about 800 members working towards the Mothers' Union vision to strengthen and preserve family life and marriage, by our Christian faith through practical action.
This practical action can be seen through the giving of self, in prayer, in voluntary work, and in helping those less fortunate than ourselves in whatever ways we can.
Following the links, please take the time to discover how we respond to our Mothers' Union vision of a world where God's love is shown through loving, respectful, and flourishing relationships.
Mary Sumner House
The national Mothers' Union website is a source of information about the worldwide organisation, national projects, monthly prayers and resources for members.
http://www.mothersunion.org
Midday Prayers are live on their Facebook page at 12:00 noon daily.
https://www.facebook.com/MothersUnion
Local Activism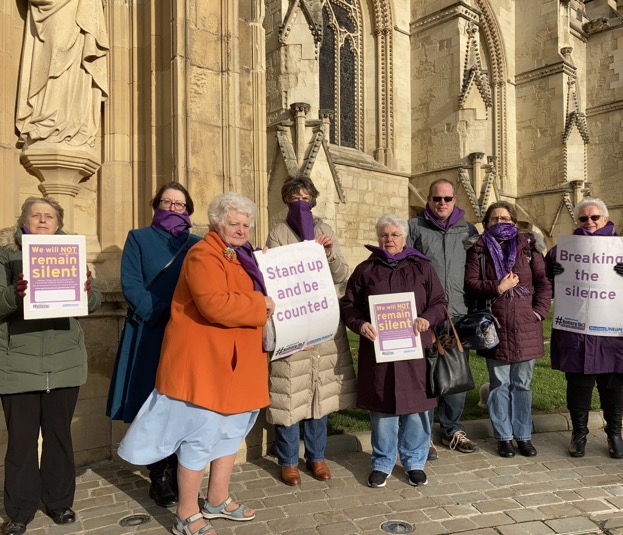 Bishop Rachel joined our President and other members outside the Cathedral on 27th November in suport of action against gender based violence
Letter from our retiring Diocesan President Kay Hensley
Dear Fellow Members
I felt I should just put a little bit in Roundabout, and here, to say thank you.
As many of you know I have had a bit of a hard time these last months with my husband, Richard, developing another cancer.
As a consequence I have not been sending my monthly letter. He finally died peacefully at home on 3rd February.
What I do want to say to you all is a big THANK YOU for all your prayers and support over this time. They have really upheld me. I was also touched by your messages of condolence when he died.
A special thak you to my Trustees for keeping the business side of MU going during this difficult time. You have all been wonderful.
What a great 'team' MU is. Working together and supporting each other.
There is now light at the end of the tunnel when we look forward to a more normal way of life and being able to meet again.
Thank you all again and God bless you.
with love Kay