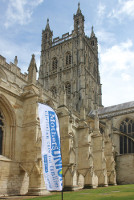 Diocese of Gloucester Mothers' Union
Mothers' Union in the Gloucester Diocese
Welcome to the Diocese of Gloucester Mothers' Union website
Job opportunity
We are looking to employ an administrator to work 10 hours per week mainly in the Mothers' Union office in Gloucester. If interested please see advert below.
http://mugloucester.org.uk/downloads/MUadvert2022.pdf
Mothers' Union is the largest international Christian organisation with over 4 million members in 83 countries across the world.
Within this worldwide organisation we are part of the Anglican Province of Canterbury and based in the South West of England above Bristol, bordered by Wales in the West and the Cotswold Hills to the East.
Led by our Diocesan President, Doreen McLellan for the triennial 2022-2024 we have 29 branches across 8 deaneries and about 650 members working towards the Mothers' Union vision to strengthen and preserve family life and marriage, by our Christian faith through practical action.
This practical action can be seen through the giving of self, in prayer, in voluntary work, and in helping those less fortunate than ourselves in whatever ways we can.
Following the links, please take the time to discover how we respond to our Mothers' Union vision of a world where God's love is shown through loving, respectful, and flourishing relationships.
Facebook
Are you a Facebook user? If so, please join the Mothers' Union Diocese of Gloucester facebook page.(Search in Facebook groups for MOTHERS' UNION GLOUCESTER DIOCESE)
Every day, the prayers from our Prayer Diary are published, together with the Wave of Prayer. Also any items of interest to Mothers' Union members which appear on the Church of England social media sites.
Mary Sumner House
The national Mothers' Union website is a source of information about the worldwide organisation, national projects, monthly prayers and resources for members.
http://www.mothersunion.org
Midday Prayers are live on their Facebook page at 12:00 noon daily.
https://www.facebook.com/MothersUnion
Commisioning of Diocesan President and chaplain
Doreen was formally commissioned as our Diocesan President at the Lady day service in 2022 in Gloucester cathedral , alongside the Trustees and Speakers. Revd. Liz Palin was also commisioned as our chaplain.
Letter from our Diocesan President
Dear Fellow Members
At the time of writing we are well into Autumn, with cooler, more unsettled weather, and we are enjoying seeing the beautiful colours of the leaves on the trees. Our rowan tree has lots of lovely berries and, apparently, this is a good year for holly berries. Certainly, Philip and I have seen some heavily laden holly bushes as we have been out and about.
In September seven members from Gloucester Diocese went to York for the MU Annual Gathering. We had a good and interesting day which was packed with information and updates, and which included an address from our Worldwide President. One of the presentations was a short video showing the impact of the work of the Mothers' Union around the world and we also heard from Bishop Emma Ineson, our Central Chaplain, as well as members of the team at Mary Sumner House. Some of the updates we received are featured in the latest issue of Connected and I encourage you to read it thoroughly. Information will also be spread throughout the diocese via Roundabout and branch leaders. The annual gathering concluded with a choral evensong in York Minster, which also included a sermon by the Archbishop of York.
As I prepared to write this letter I heard the sad news that Kate Thompson, one of our vice-presidents, had died. Kate was passionate about MU and many members will have memories of her at meetings and events and she will be much missed. Personally, I will miss her advice, friendship, and support, which has been a great help to me as Diocesan President. Our thoughts go out to her family, especially as Christmas approaches with all the emphasis on family gatherings.
By the time you read this we will be well into Advent and the Christmas season, and then looking towards the New Year. We always say how quickly time passes and how we seem to hurtle through the year. Perhaps we need to use the changing calendar of the church's seasons, especially Advent, to pause and reflect a little before we are caught up again in the rush around us.
I wish you all a good and peaceful Christmas.
Doreen