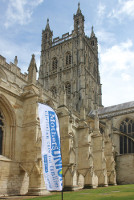 Diocese of Gloucester Mothers' Union
Mothers' Union in the Gloucester Diocese
Welcome to the Diocese of Gloucester Mothers' Union website
Mothers' Union is the largest international Christian organisation with over 4 million members in 83 countries across the world.
Within this worldwide organisation we are part of the Anglican Province of Canterbury and based in the South West of England above Bristol, bordered by Wales in the West and the Cotswold Hills to the East.
Led by our Joint Diocesan Presidents, Helen Barton and Dorothy Marshall for the triennial 2016-2018 we have 39 branches across 9 deaneries and about 1,000 members working towards the Mothers' Union vision to strengthen and preserve family life and marriage, by our Christian faith through practical action.
This practical action can be seen through the giving of self, in prayer, in voluntary work, and in helping those less fortunate than ourselves in whatever ways we can.
Following the links, please take the time to discover how we respond to our Mothers' Union vision of a world where God's love is shown through loving, respectful, and flourishing relationships.
Mary Sumner House
The national Mothers' Union website is a source of information about the worldwide organisation, national projects, monthly prayers and resources for members.
http://www.mothersunion.org
Diocesan Presidents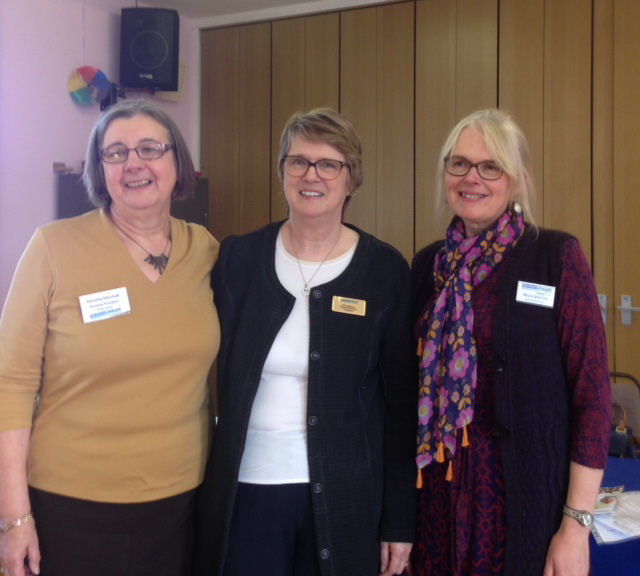 Our joint Diocesan President, Dorothy Marshall and Helen Barton with Nikki Sweatman, our Provincial President
Letter from our Diocesan Presidents
Dear Friends
Spring is springing , the snows have gone (!!) and Easter is approaching, when we celebrate the Resurrection of Jesus, our Lord and Saviour. Here in Gloucester in this season of new birth and changes, we have seen a few in Mothers' Union. We are well settled into our new office but sadly Jean our wonderful secretary of 12 years is moving on and we will have a new secretary in Carole who joins us officially in April. This will result in some changes including a change in office opening days to Monday and Thursday.
Helen and Dorothy spent a week at the MU Conference in Derbyshire preparing to roll out MULOA in Gloucestershire. This stands for Mothers' Union Listens, Observes and Acts. It comprises of Bible study, discussion and sharing of MU stories as a way of taking MU forward. Our aim is to visit as many branches as possible to give our members the opportunity to experience this and to reinvigorate to put MU Aims and Objects into practice.
May is a busy month with our Annual Meeting, our Festival service in the Cathedral when we celebrate all that is good about MU and our Quiet Day. To find out more about this and our organisation, please email or ring the office.
With love and prayers,
Dorothy and Helen, Joint Diocesan Presidents