Presidents of Mothers' Union in Gloucester Diocese
Currently in our Diocese we have two joint Diocesan Presidents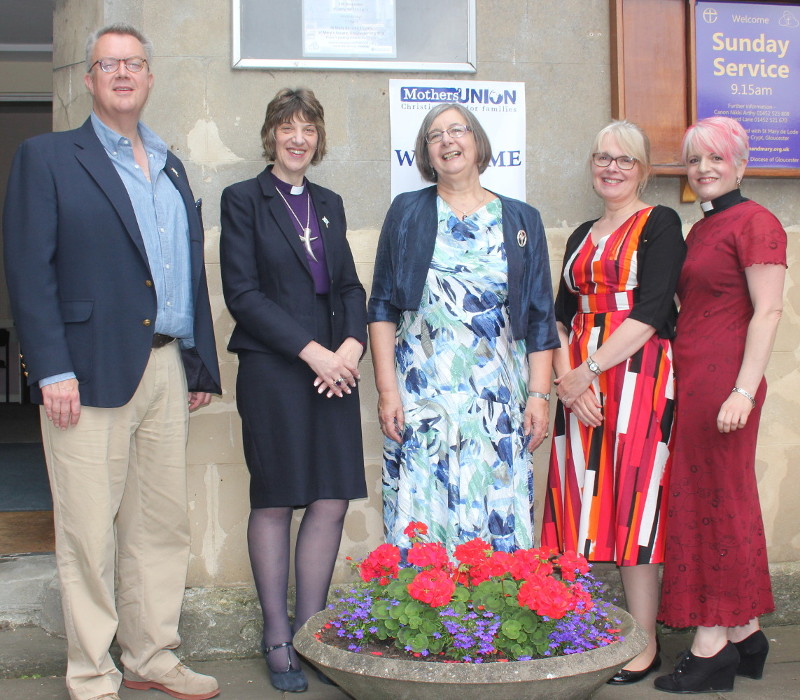 Helen Barton and Dorothy Marshall, shown here with Bishop Rachel and her husband the Revd Canon Guy Treweek, and our former Chaplain Revd Ruth Fitter, after the Songs of Praise service in the Cathedral.
Their role is to guide the Mothers' Union in this Diocese and to represent us elsewhere. They are joint Chairmen of our Council which meets twice a year.
Letter from our Diocesan Presidents
Dear Friends
Welcome to our new website. We hope that you will find it easy to use and that you will be able to learn more about Mothers' Union activities in the Diocese and around the World, while keeping you up to date with our campaigning on issues affecting family life.
In the diocese, we are looking forward to seeing as many members as possible at Autumn Council on 20th October at Brockworth, when our speaker will be Provincial President Nikki Sweatman.
Looking back it was good to have so many members in the Cathedral for our Songs of Praise, where we enrolled Bishop Rachel and her husband Guy as Diocesan Members. A truly uplifting experience and a first for Mothers' Union in Gloucester.
Till next time, With love and prayers,
Dorothy and Helen, Joint Diocesan Presidents