Presidents of Mothers' Union in Gloucester Diocese
Currently in our Diocese we have two joint Diocesan Presidents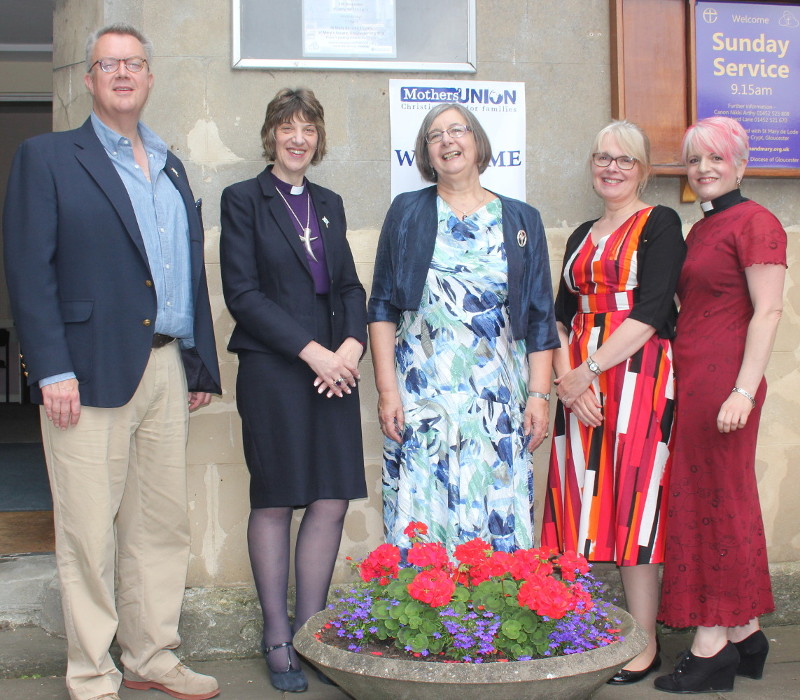 Helen Barton and Dorothy Marshall, shown here with Bishop Rachel and her husband the Revd Canon Guy Treweek, and our former Chaplain Revd Ruth Fitter, after the Songs of Praise service in the Cathedral.
Their role is to guide the Mothers' Union in this Diocese and to represent us elsewhere. They are joint Chairmen of our Council which meets twice a year.
Letter from our Diocesan Presidents
Dear Friends
Spring is springing , the snows have gone (!!) and Easter is approaching, when we celebrate the Resurrection of Jesus, our Lord and Saviour. Here in Gloucester in this season of new birth and changes, we have seen a few in Mothers' Union. We are well settled into our new office but sadly Jean our wonderful secretary of 12 years is moving on and we will have a new secretary in Carole who joins us officially in April. This will result in some changes including a change in office opening days to Monday and Thursday.
Helen and Dorothy spent a week at the MU Conference in Derbyshire preparing to roll out MULOA in Gloucestershire. This stands for Mothers' Union Listens, Observes and Acts. It comprises of Bible study, discussion and sharing of MU stories as a way of taking MU forward. Our aim is to visit as many branches as possible to give our members the opportunity to experience this and to reinvigorate to put MU Aims and Objects into practice.
May is a busy month with our Annual Meeting, our Festival service in the Cathedral when we celebrate all that is good about MU and our Quiet Day. To find out more about this and our organisation, please email or ring the office.
Till next time, With love and prayers,
Dorothy and Helen, Joint Diocesan Presidents